Randolph Gives Bosh A Finger .....In The Eye As The Raps' Loss To The Knicks
The Raptor Killer striked again . Placed a dagger 43 in long in the Raptors' chest . Can't the Raps guard this Jamal ? But 1st , they must know their geometry . '
I thought I was close enought to him but apparently not '
said Jamario Moon after Jamal buried a 3 point shot with the score close and the time down to a few minutes in the game the Knicks won , 99-103. The man Walt 'Clyde' Frazier dubbed the
master of off balanced shots
threw the whole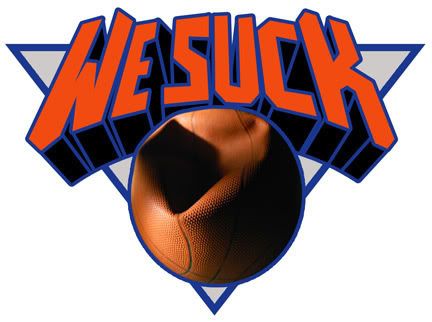 Raptors unbalanced all night with his 43 big points . The Raps opened the game in the 1st quarter with a big number of turnovers (especially compared with the Knicks ) but looked like they will have an easy sailing . Nope . The Raps let their opponents find their groove leading a mere 2 points after the initial half. Last night's loss to a team everyone in the NBA agrees is the suckiest team was the kind that will lose them many fans . Coming at the time that the Raptors TV ratings are beginning to climb up , this is bad news .
Maybe , they will watch watch American Idol instead
. Ooops , maybe not. Paula
Abdul's
name might remind them of
Jamal
!
The 2nd half was a different story . '
The 1st half is all offense but the 2nd half is all defense
' said Cyde . Not really . Zach Randolph introduced his 'offensive' finger to CB4's e
ye forcing Bosh to throw an awkward shot which missed the basket like a car without a GPS. Bosh closed his eyes for a long time while down on the floor like a Muslim doing his
salah
(right photo ). When Bosh got up , he gave the refs a mouthful . No ' t
'
was given him
as
the refs gave Bosh the respect he deserved being the Raptors' main guy
according to Cylde . Actually , Bosh commited a series of errors at that point in time with the
Lilliputian
Nate Robinson helping Zack double team, well more correctly , 1 1/2 team Bosh everytime the ball was in his hands. Actually , the Raps still have a good chance to catch up until Moon woke up to discover his name was
not
Jamario Kapono .
It's more like
J. KaputNo
.
Moon, who made all his fou
r 3 points shots earlier, missed the rest of his attempts from the long range. Should not Moon be dunking from the 3 point line instead ? Give Moon
a tape he could put on the floor
please !
Moon :

Next year , I'm joining the 3 point shooting contest .... at circus soleil !