If The Raptors Are Real Dinosaurs ....
1. Chris Bosh will be a long neck
Sauropaud
dinosaur...
2. T.J. Ford and Jose Calderon will be the agile and swift
Deinochus
dinosaurs....
3. Rasho Nestorovich will be a slow moving
Edmontausarus
dinosour. ..
4. Jamario Moon will be a bird like
Compsognatus
dinosour ...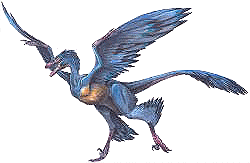 5. Carlos Delfino will be like a ferocious
Herrerasaurus
dinosaur discovered in Argentina.. .
6......and lastly , Darrick Martin will be the smallish , fat and bald Barney dinosour.