Vancouver Hangover .
It's funny how many Vancouverites still harbor the hope of the NBA returning to Vancouver, B.C. Huh ? Vancouver blew it ! Their fan support waned after only a few seasons.
' It's important that in choosing future location for a new NBA team that it is located in a major city
' said Commish David Stern during the NBA Europe Live press con held in London, England . He then compared the very much alive Toronto Raptors franchise vs. the very much dead Vancouver Grizzlies ( now the Memphis Grizzlies ) . Maybe there is hope. A long shot . Even a 3 point shot . If a combination of things align somewhat , Vancouver will be an NBA city once more. These are :
One - if the province fav son and 2 time NBA MVP Steve Nash plays for t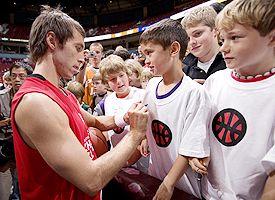 he new Vancouver team .
The Suns vs. Supersonics game last Friday drew a sellout crowd of 17K plus
. Awesome for a pre season game ! OK , OK .Nash may be
too old
once his contract with the Phoenix Suns is over. Not really . Ex Celtics great Bob Cousy, to whom Nash's game is often compared with , came out of retirement to play for a fledging Kansas City NBA team.
Two - if the numerous Chinese billionaires/milllionaires based in B.C. join forces to bankroll the team. The new team won't have no problem with money as income from the food sales alone will be huge. Knowing the Chinese , they will have pricey spring rolls and wanton soup in place of cheap hotdogs and Coke ! Who cares if they name the team the
Hongkouver Dimsuns !
Three - if half of the roster is composed of members / or former members of the Chinese National team. Many enterprising tour agencies etc. will surely put a Vancouver basketball game attendance as part of their tours in the same way as seeing a live Ichiro /Seattle Mariners game a must for Japanese foreign students in TO. Then there is the non stop and ever
increasing Chinese population in Vancouver, legal or otherwise ?
Just remember that these are my ideas
. OK , grass
hopper ?


Bruce
Lee :
Maybe my friend Kareem will come out of retirement to play for Chinada !