Bosh , No Spark Plug For The Raptors.
There is no doubt that the Raptors are weaker without their main man , Chris Bosh. Or are they really ? Early last season , the team led by TJ Ford played very well in a stretch when CB4 went down with
injury. The team just bonded for some reason and played winning ball on the road at that. Some Raps fans called Bosh's absence then as a blessing in disguise . And maybe even now. Chris Bosh has not played the last 3 pre season games due to a sore knee.
He is expected to be ready(?) against Cleveland on Thursday
. This coming season , Bosh is expected again , like last year, to start slowly. Not exactly the
quick start Bosh !
It just goes to show who is the real leader of the team . TJ Ford ? Yup , the dimunitive guard appears to have more leadership qualities in his 5'9'' body than the 6'10'' Bosh. TJ led the team during his absence physically early last season and mentally during the playoffs vs. the New Jersey Nets. When Bosh struggled against Mickey Moore's and Jason Collin's defenses all series long ( Bosh showed up only in the last game of the series - game 6) while TJ matched very well with All Star Jason Kidd . Before the playoffs , in a game against the Milwaukee Bucks , TJ was first to confront burly center Andre Bogut who roughhoused ...who else but Chris Bosh.Now if only TJ Ford will drop his
lame
name , TJ , and adopt a more sinister sounding one , he will generate
more fear
among his colleagues.
Say like OJ Ford
!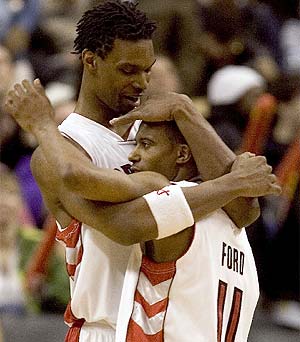 CB4 :

How 'bout
we call you BJ Ford !