( In ) Houston , We Have A Problem !
Allan Houston is either going to sign up with the New York Knicks or their neighboring bros , the New Jersey Nets.
Both teams are interested in the comebacking sharpshoot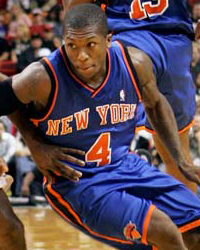 er. Both teams are in the suddenly competitive Atlantic Division with the Toronto Raptors. Big problem for the Raptors. It's given that the Boston Celtics are the odds on favs in the division with the Nets running second. To those who still put the Raps as the leading team in this Division , you are dreaming guys .My forecast is that the Toronto dribblers are in a tight race for 3rd in the Atlantic with the Knicks. NY will get the upperhand if they get Allan Houston. Why ? They will have tremendous firepower in AH , a healthy Richardson and recent addition to the team , Zach Randolf. The Knicks players have been practicing on their own as early as the the start of the Las Vegas Summer League led by the MVP of the said tournament and the much improved Nate Robinson. Add the play of the maturing Renaldo Balkman . It will be
Balkman and Robin
son in where else , Gotham City !
The Raps will find hard to beat NY this time. Did I say that Curry has a chip on his shoulder ? Why ? First for being ignored in the last NBA All Star and then the Team USA selection . Fo
rmer Bull
mate
, Tyson Chandler , even made it to the national team. The Raps are busy doing
their own thing.
The European Raptors are playing in Europe. The American Raps are rapping . Not actually . Yesterday , I saw Anthony Parker with his son watching the Blue Jays battle the Orioles at Rogers Center. Uh oh. If the Raps are not careful , they will suffer the same fate as their baseball cousins.
Out of the playoff
. It wiil serve
as
another proof of dino-birds link !