Tonight's Game Preview : Jazz Vs. Just Fine
It seems like the Raptors have found their groove. They are groovy once again especially in their last game vs. the Bulls. The Raptors' dynamic PG duo of TJ Ford and Jose Calderon combined for 23 assists . That means , they are moving and sharing the ball. But that was agai
nst an obviously uninspired Chicago team. Let's see if the Raps will show the same vigor versus the versatile Carlos Boozer , rebounding demon Paul Milsap, teardrop lartist Deron Williams and tears dropping like a baby and block artist Andrei Kirilenko. The Jazz is really a fine ballclub whereas the Raps are just fine. TO is not yet a consistently good ballclub. One should watch 3 things in this game . One is rebounding . How will a poor rebounding team like TO solve Booz , Milsap and Co ? Two is guard play . TJ is a speed demon whereas his counterpart on the other side , Williams , is more controlling. Will razzle dazzle beat
jazz
le ? Will
Utwo
(TJ&J) tire out
Utah
's main PG ? Lastly , who will win the battle of 3 point shooting (near) 7 footers ? Bargnani or Mehmet Okur ? I just need to look at the results in these 3 categories and I can tell the winner without looking at the scores. It's Jazz time tonight by 10 points or more . Yup. I am sure. Like Fox' Bill O' Reilly is sure he can make
Mark Cuban's Iraq movie Redacted
fail at the box office as he did to Robert Redford's Lions For Lambs by advocating boycott of it. Otherwise ,
I will boycott predicting the outcome of future NBA games !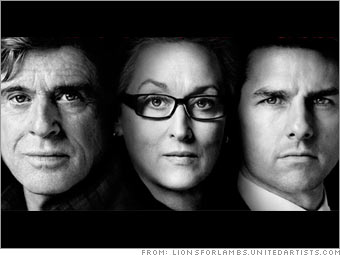 Robert & Merryl

:
O'Reilly , you can't handle the truth !
Our f
ilm's weekend box office of just $6 million was
'co
z of Tom and not 'coz of your so called boycott !