TO Gambles OpportunityTo Beat Memphis.
Elvis is very much alive . Notwitstanding their dismal record . the Grizzlies surprised the Raptors with a 24 lead in the 1st quarter and held on to end the year for Toronto
with a loss , 104 - 110 . I don't know what happened to the Raps . They must have felt intimated by the new ( interim ) coach of the Grizzlies , Tony Barone Sr. You see , Barone Sr. looked like a character from the TV hit ' Soprano ' . On the reverse , Barone inspired his team for sure. Memphis ran at every opportunity.
'Whe
n you push the ball and converts those shots , it deflates the other team .It gives us a lift
' said Mike Miller . Unlike in the old style of play.
The only lifts are in Mike Fratello's shoes !
What surprised a lot of Raptors fans was coach Mitchell's move to put vet Derrick Martin in place of Jose Calderon in the closing minutes of the game .Actually , Calderon was in briefly - one play -then immediately yanked out . It's a gamble which Sam lost . Martin committed an error which resulted in a turnover and a horrible attempt at the basket which missed terribly .Why was Martin playing a lot of people asked . Simple . Martin was Sam's boy . He acts as Sam's cheerleader on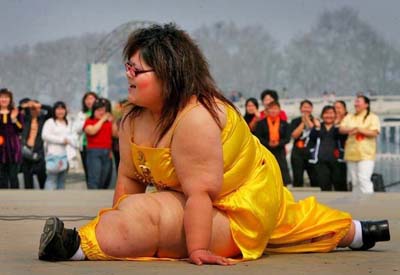 the bench and in the locker room .
Only someone forgot to tell Sam that cheerleaders don't need to play !






Cheerleader :
You do that again , Derrick ,
I'll crush your bald head with these legs !