Raps Shoot Magic Down !
Unheralded Rasho Nestoric frustrated Magic's big man . Dwight Howard , by playing good defense all night helping the Raptors snapped a 4 game losing streak wit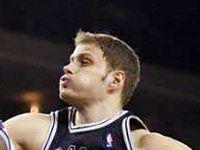 h a 94 - 87 victory. Rasho ( 7 pts.,10 reb. ) had 5 blocks last night mostly on Howard who scored 17 points with 4 of them on garbage time . So ineffective was Howard , coach Brian Hill forgot to field him and Carlos Arroyo ( 22 pts., 6 reb. ) soon in time to make their move in the 4th quarter. The Raps shot 47% from the field as opposed to 37% by the other team . It was a quality win for the Raps against a quality team . Quality team ? Not last night. It seems that Orlando was too concerned about their TNT televised game tonight .'
It's exciting because we have the opportunity to get national exposure '
said Magic guard , Kenyon Dooling. Orlando needs to play better tonight . Or else , Orlando has no place to go but at
Orlando's Hideaway !
.
The other star of the night was rookie Andrea Bargnani who registered a career high 23 points on six 3 pointers. Bargnani shot over fellow 7 footer Darko Milicik's outstreched arm as if he ( Darko ) was a statue . Andrea was shooting the 3's from deep down the 3 pt. line . Several times in the 4th quarter when the Magic came close , they were pushed back by Andrea's 3 pointers. He was like the rifleman - set , aim , fire , BOOM , 3 points ! '
One day , they go in , one day , they don'
t
'
said Andrea. Well , tonight , everything definitely clicked . Good defense/ hot offense and the other team playing bad basketball . That's the formula that beat the Magic team .
Those are the magic bullets !





Chuck Connors :

I think the Italian in Andrea
prefers that he be compared to a Mafia Hit Man !