And The Winning Streak Is Still On .... .
The Toronto Raptors remained unbeaten after 6 games edging the LBJ led Cleveland Cavaliers last night , 91-90. The win was a come from behind victory by the Raps who were without starters Bosh , TJ Ford and rookie Andrea Bargnani . ' Sure they are a different team ' said Lebron James after the game. ' It's a good experience for them ( Cavaliers ) to play a tight game against a good unit ' echoed coach Brown of Cleveland .
' Who are those guys ' my wife naggingly asked me . She can't recognized anyone of the new Raptors as the camera focused on them as each one trooped to the free throw line . ' That's Kris Humpries . He replaced Hoffa ' I answered . Next was Fred Jones . ' He came from Indiana ' I told her as the former Pacer readied his foul shot . ' That big man is Slokar ' I responded the 3rd time. Then I realized
that's what is going to face most Raptors followers seeing the team for the 1st time . It's freshman introduction day . By the way , all 3 played beautifully . Humpries was a tower in rebound ( 16 pts. , 9 reb. ) , Jones ( 22 pts., 3 reb. ) was a scoring machine and had 3 block shots and Slokar ( 6 pts.,7 reb. ) was a sweet surprise playing like a vete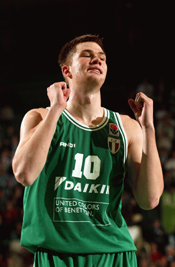 ran . Cool and effective .
I saw coach Mitchell smiling a lot last night . No more 14 game losing streak at the start of the season .No more slow start . Only Slokar !
Slokar: At least I own a car .
Unlike Bonehead Bonner !