NBA Playoffs - Day 14
LBJ And Team Win
Cleveland 114 Washington 113
It's time to prepare for Detroit now. This was at the minds of the Cavaliers after they subdued
Washington last night in OT. Self proclaimed 'Best Shooter In The NBA
' Damon Jones canned the winning basket . But as usual , it was the LeBron James Show before the Damon heroics. James battled Wiz' Gilbert Arenas all night even ' begging ' the sharpshooting Wiz guard to miss 2 important free throws that could have won the Wiz the game.
James has the habit of biting his nails during timeouts . Sometimes he cuts his fingernails using a nail cutter which is kept by one of the bench boys. Wonder if the secret of his good shooting is his nails or lack of it ? He is just unstoppable . Hubie Brown was amazed at his ability to evade his guard. ' LeBron will be better than MJ ' predicts Scottie Pippen. Coming fom Jordan's sidekick in Chicago , the statement was very believable.
No one is happier than his mom who was in attendance in last night's game. James' father left them when he was young. That makes it even more incredible considering his actuations on and off the court. Unlike Tiger Woods who's recently departed father , Earl . served as guiding hands in his career, James grew up without such help from his dad. Tiger's Pa even predicted that Tiger will change the world like Gandhi and Nelson Mandela.
I don't know if James wants to change the world. I'm sure he'll settle for them changing their shoes. To Nike LeBron.



Parker Leads Spurs To Win
San Antonio 105 Sacramento 83
San Antonio closed its series with Sacramento the way it opened it - by a blowout. To the disappointment of the capacity crowd of 17,000+ Kings fans , the Spurs led by guard Tony Parker played championship caliber ball . Parker, a black Frenchman , was one of the 6 non Americans playing for the Spurs. Parker drove to the basket at will. So did Manu Ginobili , an Argentine in his 4th year in the NBA . As usual , Virgin Is born Tim Duncan was there to snag the rebounds for the Spurs.
Its funny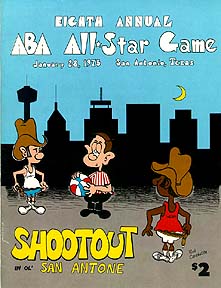 because in the 70's , ABA and NBA teams were ' criticized ' for being ' too black ' . I remember that New York Knickerbockers were sometimes given the name ' Niggerbockers '. Attendance , composed mostly of white folks , suffered . The roster of San Antonio was not different from any most ABA and NBA teams. ' Several black players were traded and soon half of our roster were white ' recalls Steve Jones , who now serves as color commentator with Bill Walton in ABC for NBA coverage.
I wonder whether the time will come that Americans will demand high paying NBA jobs be filled up by Americans only regardless of special skills. Like what is happening now in some areas.
If that happens , we will not see the likes of Yao Ming anymore.
Unless he wants to be a 7'5'' towel boy !