Vince's Strategy In The Playoff Series With TO Revealed.
Basketball observers are still perplexed about Vince Carter's roller coaster performance in the current Raptors-Nets playoff series. How can VC be so ordinary in the 1st 2 games and suddenly became superhuman in the next 2 games. Carter explained it this way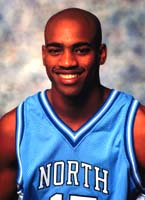 . '
I am entitled to off days
.' said Vinsanity. Vince made 30 points on 30% shooting in the 2 games held in TO. He was basically a non factor against the Raptors' defence and/or the non stop booing he received from 20,000 Raptors fans. No kidding ? '
I'm used to this kind of crowd. I experienced a lot worse in
college game
s
' said Michelle Carter , Vince' Mom before the start of game 1 at ACC when asked about whether she and VC were affected by the rought reception . I believe her having read the book ' Blue Blood ' . The book is about the Duke-Carolina rivalry including accounts of the 2 schools' fans behaviors . So there , the fans' booing should not bother VC no matter what people in TO think. What about Anthony Parker's 'D' on Vince ? After game 2 , fans were hailing AP as the 2nd coming of Bruce Bowen ! Really . AP was coming in second all the time in games 3 and 4. He can't keep up with VC who averaged 32 points on 50% shooting.
I have a theory why VC is less than Vinsanity whenever he is in TO. It's simply
business.
Unlike ex Raptor Tracy McGrady who enjoyed sticking it to the fans everytime he was in town in the early years , VC still
has plenty of ties here. '
Vince still has many friends in Toronto and in fact , he still has his club there'.
said the ESPN man in game 3. Why anger the fans , er , the customers . See what some fans wrote about Raptors Super Fan , Nav Bathia . the owner of Hyundai, Missisauga. Bathia , a good friend of VC , is viewed by some fans as a traitor for accompanying Vince's Mom to ACC and for not wearing red the 1st day of the playoff. One suggested that Raptors fans should boycott his car dealership ! Let's see if VC will continue playing to satisfy the fans here or the basketball fans all over the world .