Raptors - Must See TV .
It was New Year inside the Air Canada Center last Tuesday as confetti rained down from the roof at the sound of the final buzzer. Game 2 wa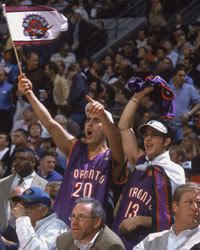 s incredible . Incredibly noisy . It's like you are in Sacramento King's home arena before Ron Artest. Twenty thousand people all hyped up. It's like being in an NCAA basketball game. A Duke vs. North Carolina game. The fans went wild from the moment coach Sam Mitchell was announced the NBA's coach of the year and handed by David Stern the Red Auerbach trophy. It good the Raptors beat the Nets. It would have been a real downer if the Raps lost that night.
TNT was wrong not to cover the Toronto-New Jersey game. Yesterday's game was far more interesting than the 2 blowup games they featured later that day. Oh well. This is not the 1st time the network was wrong in featuring what games will offer nailbiting results. Even their panelists were wrong in picking who will win the match. '
The Nets will win. The Raptors will never beat the Nets
'
said Charles Barkley last night before the Bulls-Heat game and at halftime of the Raptors-Nets game. Maybe , the Nets will eventually (?) win the series but Toronto will surely win more important things than this series. New fans .The Raptors won a lot of new fans especially in the period when the beloved Maple Leafs hockey team is out fishing . '
Hey Chuck. I'm a new basketball fan . I enjoyed the game last night. Will you talk about the rules of the game in your show today
? ' asked a caller to Chuck Swirsky Show. I bet a big number of those who showed up at ACC are Maple Leafs fans and/or their kids. As sports followers of the 2 sports will note , in Canada hockey fans are older than basketball fans .Raptors fans belong to the younger generation. Some or should I say , many Leafs fans are not happy about the increasing popularity of basketball. The
usurp
er sports
they say. That's why there are non stop debates about the merits or demerits of both sports happening in forums , in schools and between family members. '
The problem with hockey is , it is not made for TV. It's hard to follow the puck even in the age of high def TV
'. I said to a friend , a Leaf fanatic. He quickly answered
' The problem with basketball is that you just need to watch the last 2 minutes 'cause that what matters '
. Not with this Raptors team. Every second is
must see TV !