Will Bargnani Be Ready For The Playoffs ?
Andrea Bargnani will not play in tonight's game against the Detroit Pistons. AB's comeback after an appendectomy operation was moved back after the Italian rookie complained of sinus infection . A comebacking player needs at least 5 games to get back to playing condition according to Steve Kerr , the former member of the Chicago Bulls
and now
TNT basketball Analyst
.
That's why
Miami coach Pat Riley

played

D Wade before the playoffs start
.
I guess , coach Sam Mitchell believes otherwise .
' What's the use of playing Andrea now .'
explained the leading candidate for NBA coach
of the year
. ' We only have a few games left '.
That's what a COY nomination will do one's self esteem. It built Sam's confidence sky high. Sam believes in his system and not what others say. l reckoned that Sam thinks that all he needs to do is point to the player and say
Sam needs you
, and the player will play well !
Andrea implied himself that he may not be ready to play good basketball. '
My condition is the same as when I was starting this season
' Bargnani said. At the start of this season , Sam hardly played Bargnani because he can't rebound and his deadly 3 point shot was still non existent. Nevertheless , Bryan Colangelo ordered Sam to give Bargnani more playing time. The Raptors will definitely rely on Bargnani to do his stuff in the playoffs. '
We need Bargnani to spread the defense
of the other team '.
said Chris Bosh. Oh well , with his present condition , the Raptors will just need Bargnani
to spread
some sin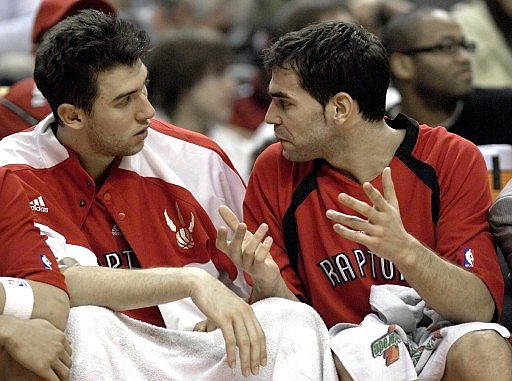 us infection germs to the other team !
Jose :

Sinus ? No problema . Take Robitussin .
Andrea :

Robitussin ? Is he a guard or a forward ?