Time To Upgrade The Quality Of Coverage.
Now that the Raptors are in the playoffs , the quality of the team's redio/TV coverage should follow. Enough of mediocrity and using unknown sports personalties masquerading as basketball Analysts and NBA experts. Viewers in Canada will now have the chance to experience ESPN's , and if the Raptors go deep in the playoffs,
ABC's basketball coverage. Maybe the folks in Canada will
enjoy
a different brand of sportcasting . Maybe ? I'm not sure 'coz some people are so used to high octane announcing that they may find Merv Albert's style bland . You know stuff like a simple ,
Yes
, to announce when a basket is made . Some like the way say a Buffallo Sabres' TV guy way of announcing. or shouting SCOREEEEEEEEEEEEEEEEEEEEEEEEE for every goal made by his team. What truly gets me riled up is when so called NBA/basketball experts like Eric Smith of Raptors radio (in right photo) , Norma Wick , Sherm and ' NBA lightweight ' like Leo Rautins or to some degree former NCAA coach Jack Armstrong , are continually utilized to provide analysis . Who the f--- is Eric Smith ? As one Raptors fan wrote '
He's just one of us
'. Did Eric even played for Hamilton T Rex ? Give me an ex NBA player please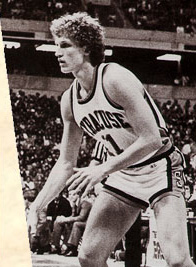 . Aren't Leo and Jack cover college basketball for ESPN ? Let them confine themselves to their NCAA gig. Give me a bonfide ex NBA star so that they are more believable. You know. '
Been there , done that
'. Not ' been there ...on the bench , done ...nothing during my NBA stint '. That's how really was Leo's NBA career. One former Raptor reportedly asked '
Who the f---- is Leo Rautins
? '. The ex Raptor was probably pissed off by Leo's constant sermons
.
Check his so called NBA career
and take a look at Leo's short shorts in the photo at left. The quality of Raptors basketball has improved a lot. You know what should follow !