Raps Win Big Over Bobcats
The Toronto Raptors limited the Charllote Bobcats to 8 points in the 3rd quarter leading to a 105 - 84 win . What started as a tight game turned into a rout when t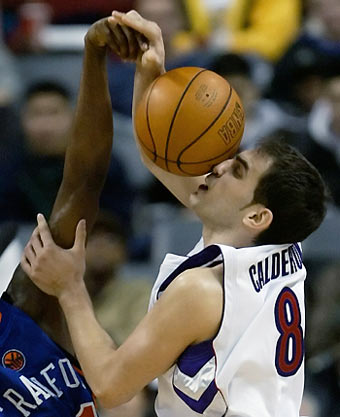 he Raptors' applied zone defense starting the 2nd half .Five Raptors scored in double figures led by Chris Bosh's 20 points and Jose Calderon's 19 points with 11 assists to boot . '
We knew what our mistakes were at the half
' said Calderon . Needless to say , the Raps corrected them . Calderon was very effective in the absence of an injured TJ Ford . Jose seemed more at ease last night . I guess , if you do not have to look over your shoulders every now and then , one will be loose too .Now , if he can only get rid of the ball stuck on his nose ( see photo) courtesy of Bobcats' Emeka Okafor ...
The Bobcats were coming from a back to back victories over the Atlanta Hawks , the last one being a blowout . '
You'd think this would not happen the way we played against the Hawks '
said veteran Derek Anderson . '
Toronto is a different team . It has more shooters ' .
The Bobcats should have realized that before the game .Don't they know that TO is a different team now. No more ballstoppers like Jalen Rose and Mike James . The Raptors play a more free flowing style of basketball like European teams do according to one Charllote newspaper
. More importantly , the Raptors are out or is it , in to win . Just like Hillary Clinton , they '
they are in , in to win
' .

Hillary
: Bryan , now that there is no more ballstoppers
in your line up, do you want to take my Bill the ballshitter !