China , The Next Basketball Superpower !
It's obvious that basketball has grown exponentially in China the past few years. No doubt , Houston Rockets' Yao Ming helps in spreading the popularity of the sports
in the country with a population approaching the 2 billion mark . The number of basketball playing or watching afficianados is estimated to equal the whole population of USA ! No wonder , David Stern , the marketing genius he is , saw the potential of the Chinese market years ahead and established NBA, Asia way before other major US sports . ' China is the 2nd biggest market of the NBA ' said Stern . Do I see a dollar sign in that smile of yours commish ? Make that yuan sign !
I remember China lagging behind Asian basketball powers such as Korea and the Philippines in early 70s . The Chinese players were tall even then but very mechanical. Now, they lord it over Asian basketball. What's the reason behind the rise of China ? Widespread popularity of the game . ' Basketball used to be behind soccer in popularity but now it's pulling at level ' said Hu Jiashi of Chinese Basketball Association. The Chinese government encourages the growth of the game because it is a relatively simple and cheap sports. I won't be surprised if China's ally , North Korea , is encouraging it too. You see , its dictator ,
Kim Jong Il wants to watch NBA Basketball.
He i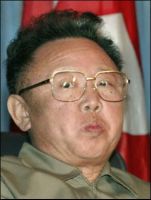 s said to own all of Michael Jordan's games in tapes. Maybe
MJ can help in the present missile crisis
with N. Korea.
Almost all the Chinese students studying English here in Niagara region know how to play the game . ' Ah , yes , Yao Ming ' is the common answer I get from them as soon as I mention the baller's name . If only these students can play basketball like they can play mahjong .
Kim :
Give MJ . me give up missiles !