Parker Without A Desparate Housewife
This morning the Raptors brass introduced Anthony Parker , the latest Raptor , to the local media. Of course to those who follow professional basketball this side of town , Parker needs n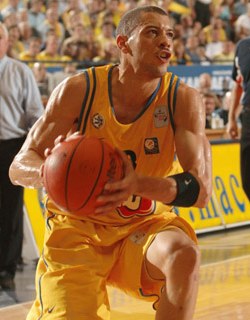 o introduction. He was the one who beat the Raptors in a pre season game last time by burying a jump shot in the last second of the game. Parker was then a member of Maccabi team of Israel . ' He cannot beat him then , so we got him ' joked Bryan Colangelo. Apparently , the former Suns GM tried to recruit Parker for Phoenix but his team has no buy out clause . He added ' that the presence of International players in the team is because of the availability of these quality ballers '.
I like Parker . He seems like a quality guy . ' I am 31 yrs. old and I think I have gained a lo
t of experience from playing abroad ' . It would be Parker's second stint in the NBA . ' I was playing behind Iverson and Stackhouse then Hughes . It was very hard to show your skills under coach Larry Brown ' said the former 76ers. ' .Parker will play behind Mo Pete or is he ? In our line up , Parker will be a small forward or an off guard ' said Colangelo when asked by Chuck Swirsky of Raptors TV what will be the role of Parker. Good . Better than Parker
parking on the bench !


Mo Pete
: Parker , Go sit on the bench !