Toronto 96 Orlando 103
The hapless
Toronto team registered its 10th straight loss via Orlando
. The Raptors stayed with the Magic until the first half of the ballgame ( 55-54 ) . The second half was a dif
ferent story. Brian Hill made the necessary adjustments allowing Orlando to pull the victory. He is an effective coach . Maybe the Raptors can get somebody like him - the right blend of experience , toughness and karma power.
He suspended Francis and eventually worked for his trade to the Knicks. Brian Hill was the coach of the Vancouver Grizzlies, a team Francis snubbed to play for Houston. What goes around ...
Brian was the coach of Orlando when Penny Hardaway got him
succesfully ' kicked ' out . After that , Penny's career went brianhill. I mean downhill.
With Mike James' shooting guns silenced (21 pts. but only 4 pts. in the 2nd half ) while Magic's Nelson ( 27 pts.) firing at all cylinders , it became easy sailing for Orlando. Another one of Orlando 's weapon was the lob pass from the high post. Dwight Howard ( 14 pts.) and Tony ( 16 pts. ) had a field day dunking the ball following a lob pass from Hedo Turkoglu.
Tony Battie's case is interesting. He was a high 1st round draft pick by Denver who had a hard time in his early years. His coach then , called him Il Busto or the Bust. Tony was eventually traded to Boston . He then played for Cleveland before finding a home, Orlando, where he just signed a 4 year contract extension.
I think a similar fate awaits Hoffa Araujo outside Toronto. It might be in other NBA cities or maybe in his native Brazil or elsewhere as long as it is not in Iraq .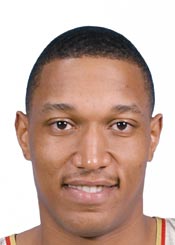 Tony Battie
6'10
240 lbs.
Center / Forward
no 5 in 1997 draft
Rafael Araujo
6'11
290 lbs.
Center
no.7 in 2003 draft
Vince's Line
Vince had 21 pts., 3 rebounds and 6 assists in 31 mins. of play .
Score :
NJ 96 Philadelphia 116.
American Idol . Another One Bites The Dust
It's
Bucky time to go
as the idol hopeful got the least number of votes in the latest edition of American Idol. The theme was Queens and it does'nt quite suit his style. And so another one bites the dust as the Queens' song goes .
The NBA playoff picture in the Eastern conference is not as set yet . Three teams are fighting for the 8th spot . These are Chicago ( 37-41 ) , Philadelphia ( 37-41 ) , and Orlando ( 34-44 ) with 4 games left. My pick is the Sixers because they are the most competitive , I think. Chicago d
oesn't have Luo Deng and Duhon while Orlando is too far behind.
NBA TV Analyst , Mad Dog Carter , thinks 38 wins is the magic number. If the Sixers - Iverson , Webber and the rest of the gang - put their act together , it might spring some surprises in the playoff.
First , they must make the playoff.
Otherwise , the Sixers deserved to be deep sixed.